Are you longing for a place where you can hear the wind whistling, see the stars as well as the horizon and enjoy meals made from scratch and always from local fresh ingredients?
Treat yourself to a little granny care, where you wake up to the sound of the rooster crowing, the fresh buns on the breakfast table and go to bed in the evening saturated with good experiences, fresh air and a well-cooked dinner. There are plenty of opportunities to join the farmer shen he feeds pigs, goats, ducks and chickens, make bonfires in the garden, climb trees or go on adventures in the area.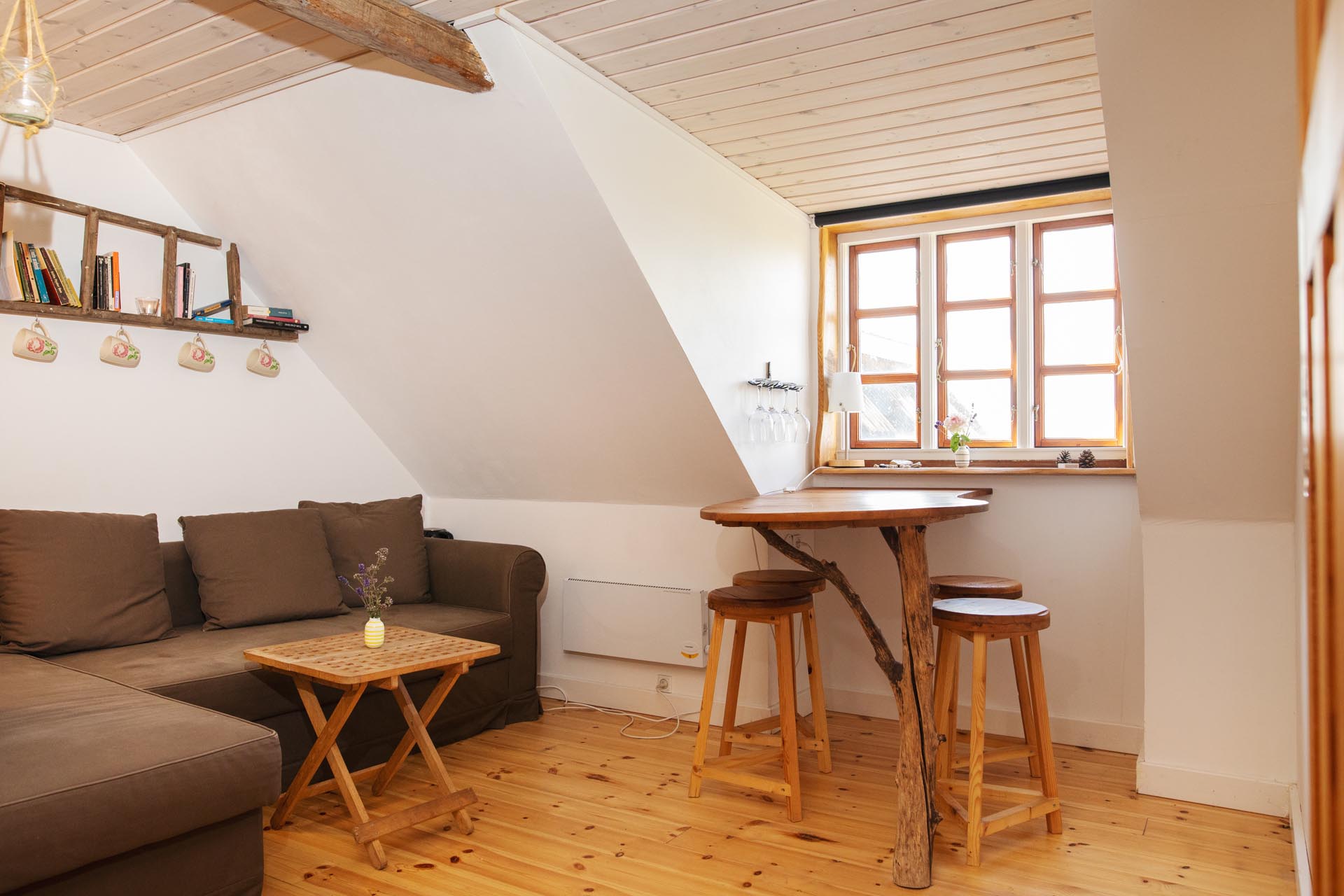 We are serious aboutsustainability. That is why our flat is made from sustainable materials, recycled and upcycled. Eg. our tables and chairs are made of the old floor separation which was taken down to build the apartment, the toilet furniture is mde form old pallets and the bookshelf is an old ladder.
The flat ffers:
Bedroom with double bed
Living room with sofa bed and dining area
Private bathroom
Access to the flat is through a small passage between the barn and the middle length of the yard and up a staircase. In the gang there is a fridge and freezer that can be used.
Close to nature in the caravan
An old 80's wagon on the outside, but inside it is newly renovated with recycling of all the old furniture in a 2.0 version. The caravan contains a double bed with a view of the fields, a small sofa corner, a corner with an electric kettle and two single beds with sliding doors, so that ou can close the door between the two sections.
There is access to a fridge and freezer in one of the courtyards. Access to your own newly established bathroom located in the old barn approx. 50 meters from the caravan is part of the rental.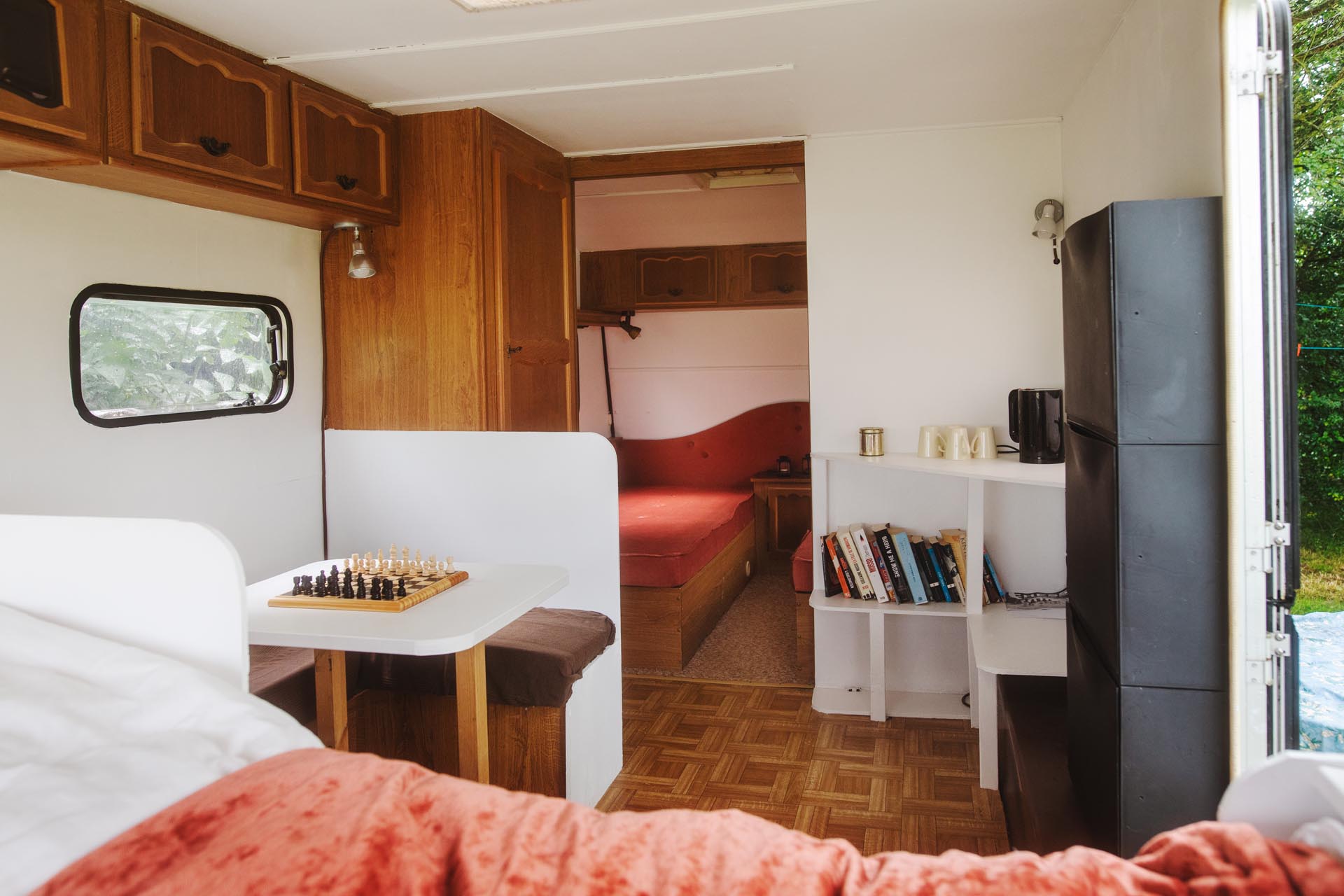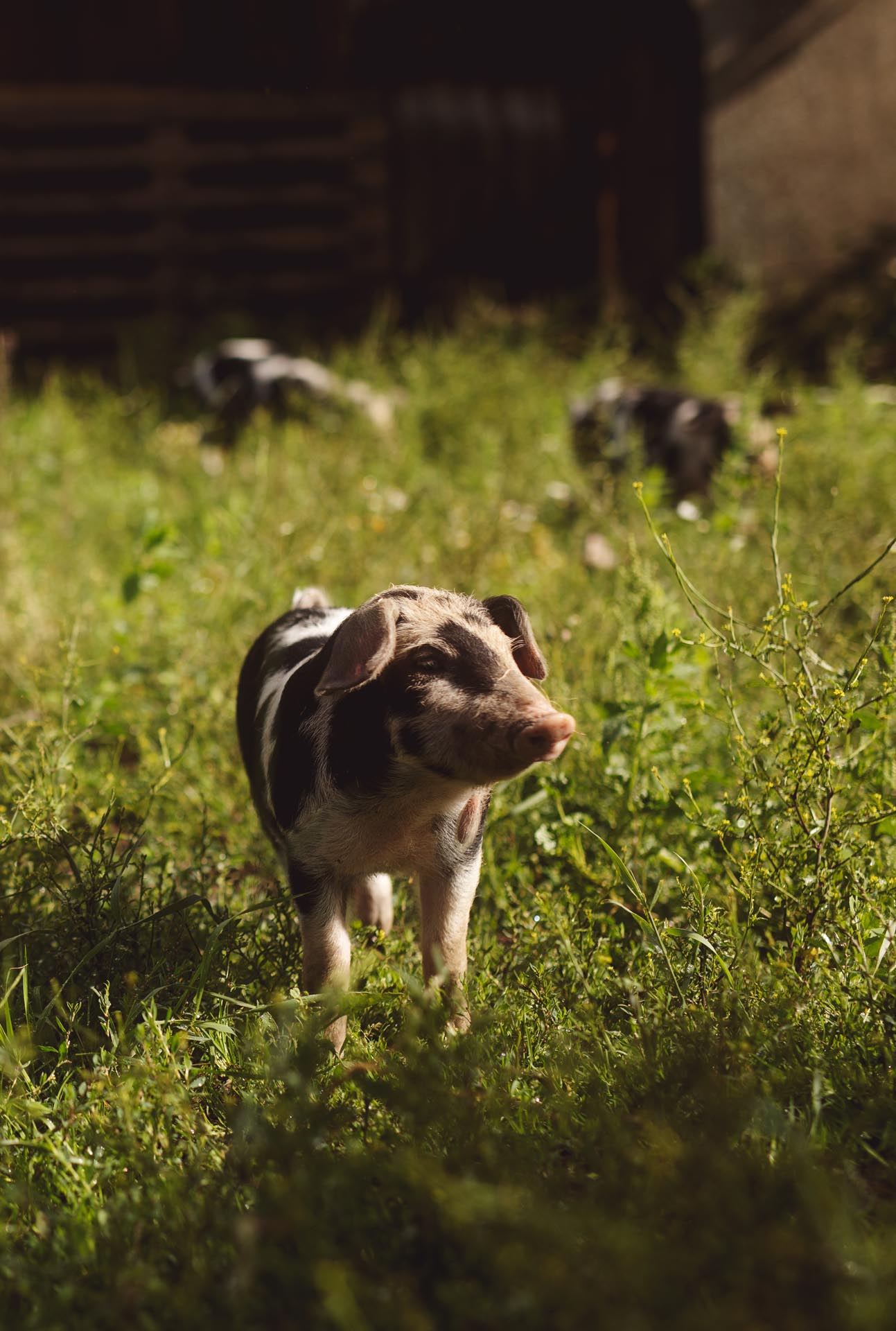 Bring your own well-known accommodation
Open your eyes to the sound of piglets grunting or the goats chewing on the grass. They will surely look at you curiously from the other side of the electric fence. And finish the day with falling asleep while enjoying the sunset from the tent opening.
We have a single tent site, with space for a tent or a caravan / camper. We provide electricity for the site but it is also possible to use a refrigerator and freezer in one of the old stables.
The site has its own newly established bathroom. It is located in the old barn approx. 50 meters from the site.