Explore the different options at Dambækgaard
We have designed several different accommodation options so that you can get the most out of your stay at Dambækgaard. Whether you're looking for a break from the city, organic fine dining, or want to experience a traditional farmstay, have a look through our options and see which suits you.
No matter what you're looking for, Dambækgaard is a place to relax, appreciate nature and experience deliciously fresh, locally sourced meals made with care.
The following accommodation options are available:
: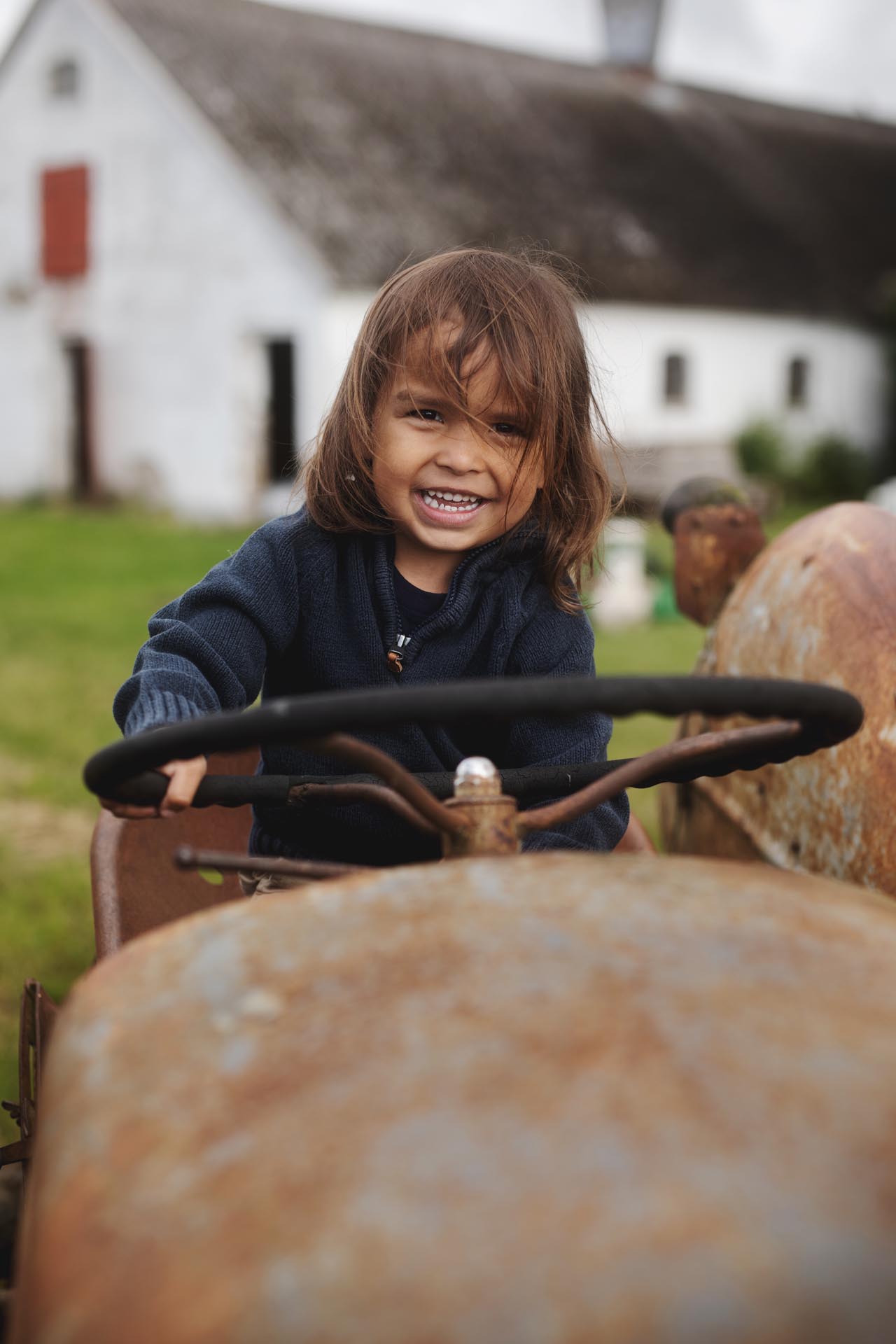 There's so much to enjoy here at Dambækgaard, with activities for all ages in peaceful surroundings.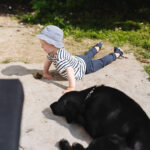 Our dog, Balder, is always interested in goings-on around the farm, and loves attention from guests young and old! Don't be scared if he barks when you arrive – he just likes to let us know when we have guests. The cats are busy catching mice in the stables and out in the fields – and you might catch a glimpse of some kittens.
You'll always meet the pigs when you're out and about in the garden, and they love to come and say hello. The ducks can be found hanging out together outside the dining hall, and you might catch them talking to their reflection in the glass door! You might come across some eggs in surprising places, as our free-range hens aren't always so picky with where they choose to lay. The goats are usually out in the high grass in the pasture, plotting how to get into our vegetable garden. And the geese can be found hanging out with the boar, keeping watch for intruders.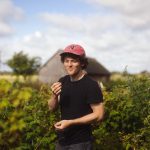 On the daily feeding tour, you will meet all the animals, and Jan will be happy to tell you all about the history of the farm and the surrounding area. You can learn all about the animals, and the way we run things here on the farm.
When Kirstine isn't busy with baking and preparing delicious meals for guests, she can usually be found in the kitchen garden, harvesting veggies for dinner, or working in the berry garden. And we can always use some extra hands if kids want to help out with berry-picking!
We light the pizza oven weekly and if weather allows it we have a bonfire once a week.
The trampoline is just outside the dining hall, so mum and dad can chill out with a coffee and book from our guest library while keeping one eye on the games. When they get tired of bouncing, there are outdoor games, ball sports and board games. For the wee ones, there's a sandbox under the fir trees with lots of fun toys, including some tractors so the kids can play at being farmers, too.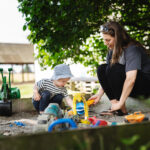 Rainy day? We built a cosy playroom in the old stable, perfect for days when the weather isn't so great. Kids can build a railway track while mum and dad can relax on the comfy straw-sofas with a book.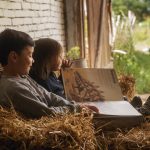 Dambækgaard is perfectly situated if you want to experience Zealand's many attractions. Most are within one hour's drive, whether that's sightseeing in Copenhagen, or one of the many cultural highlights.
But you don't need to go far for great days out! Besides all the activities on the farm, check out some local attractions:
UNESCO World Heritage: Stevns Klint is a 17km-long coastline with impressive chalk cliffs and many possibilities to find fossils on the beach and it tells the story of the cliff at the Experience centre.
Visit Faxe Kalkbrud Geomuseum , where you can take part in a fossil hunt – who knows what you might find!
Visit Bøgeskoven for beautiful bathing spots – and remember to bring a picnic!
Get a great view over the whole of Zealand, from the top of the Skovtårnet (forest tower) at Camp adventure
If you fancy a journey through the history books, head over to Stevns Fortet and learn about the Cold War
The nearby city of Køge has a beautiful old town centre, market days every Wednesday and Saturday, and great shopping opportunities.
Vallø Slot is just ten minute's drive from the farm, where you can explore the beautiful castle or play hide and seek in the grounds
Feeling competitive? Take the family for a game of football golf at Zealand's biggest football golf course, Fodboldgolfen, just around the corner.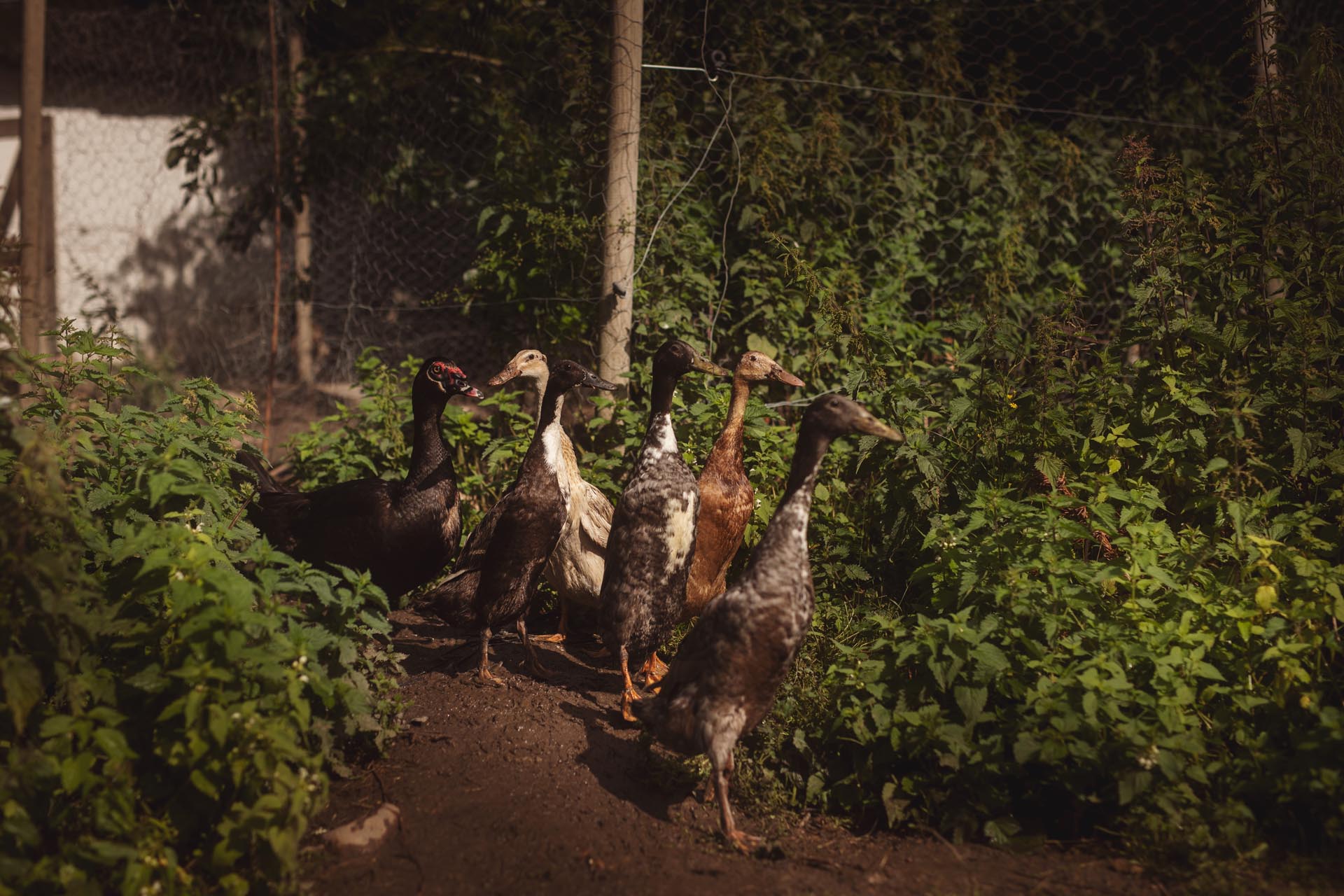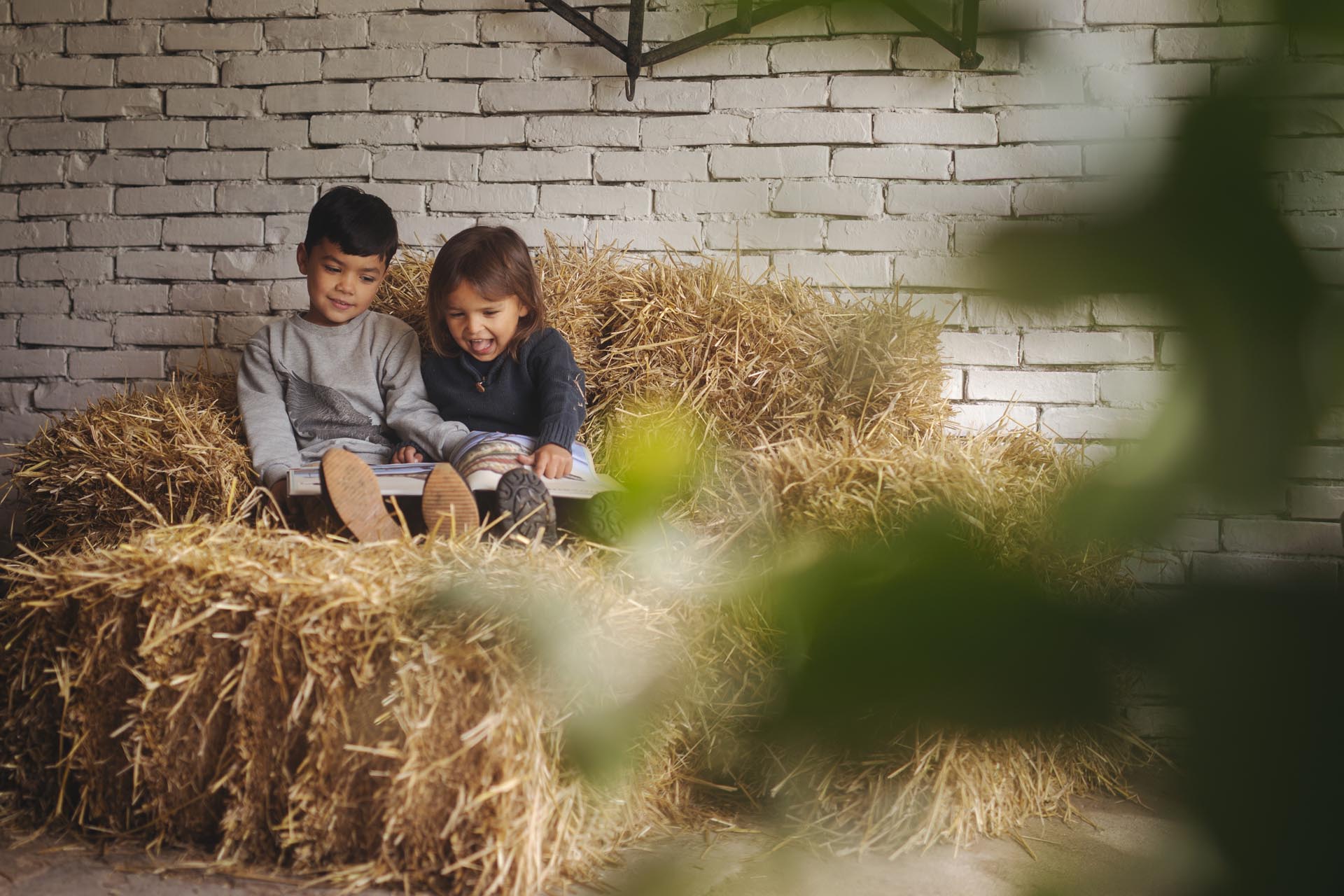 While the kids are busy helping feeding the animals, bouncing on the trampoline, and using up all that fresh-air energy, it's time for mum and dad to chill out. Enjoy the peace and quiet while you sit down with a glass of wine, looking out over the fields. And the best bit – no need to think about who's going to make dinner.
Meals on the farm are included in the price, except lunch which can be added on request. All the food is freshly made from scratch, with local ingredients from here on the farm.
Stays includes:
Arrival from 15.00
Join the feeding tour with Jan, the farmer
2-course dinner, made by Kirstine, our professional chef
Breakfast
Bed linen and towels (note: if you bring your own, you'll get a discount)
Check out before 11am. Discount available on stays of longer than two nights. Option to add lunch, cake/coffee, icecream and drinks.
This stay is tailored for those looking for an authentic and alternative dining experience. Kirstine our amazing professional chef takes inspiration from different cuisines from all over the world, and the 4-course meal is crafted with fresh, in-season ingredients – either direct from the farm or from local organic sources. Dinner is accompanied by our specially-selected wine menu, and followed up by a good night's rest in one of our beautifully appointed guest rooms.
Check in 16.00 or later
A welcome drink with home-baked snacks
4-course evening meal, with wine menu
Breakfast
Bed linen and towels (note: if you bring your own, you'll get a discount)
Check out before 12.00. Possibility to arrive at 15.00, so you have time for a farm tour, or to join in the animal feeding tour before dinner.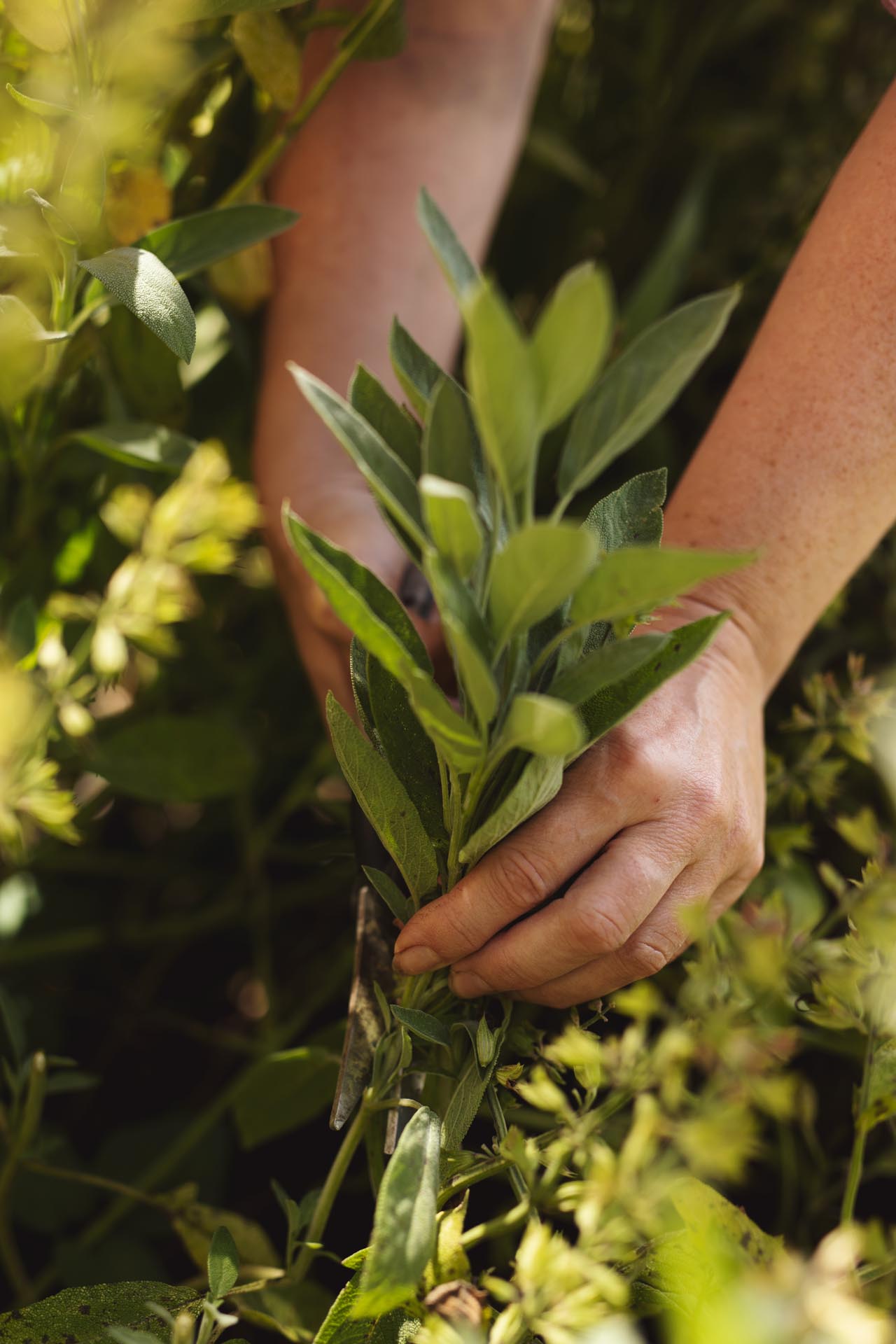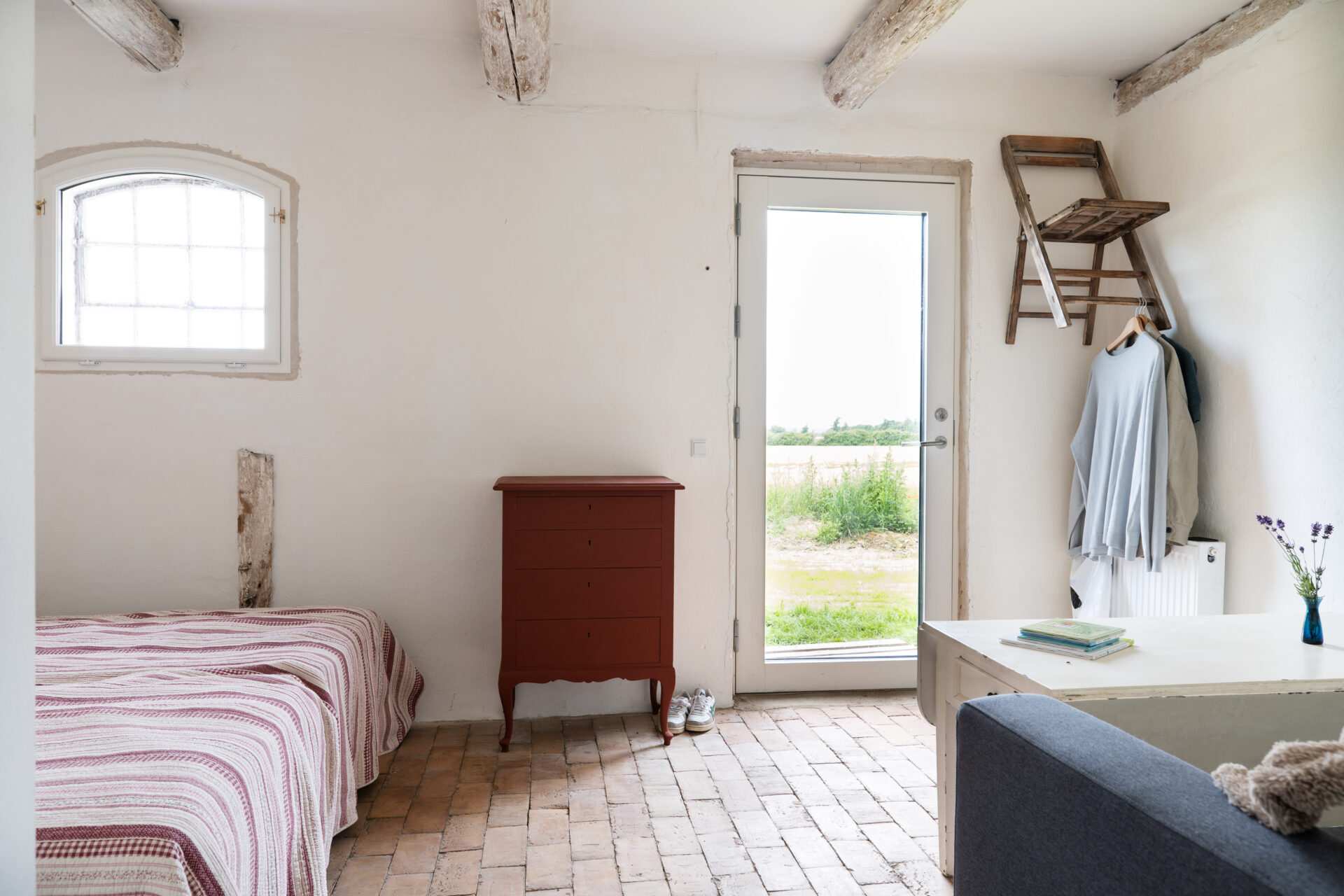 The perfect choice if you're in the area already and are just looking for a comfortable place to stay, this option includes:
One of our private rooms, with an en-suite bathroom
Bed linen and towels (note: if you bring your own, you'll get a discount)
Option to add breakfast.
Working away from home can be tiring – why not let us look after you? Get a fresh, home-cooked meal every evening, and a good night's sleep before work the next day.
Double room with en-suite bathroom
Hot coffee to-go every morning! (Please bring your own coffee flask)
Home-cooked dinner when you get home (time to be arranged)
Bed linen and towels
Option to add a lunchpack for work
Arrival any day from Sunday to Thursday. Check out between Monday and Friday.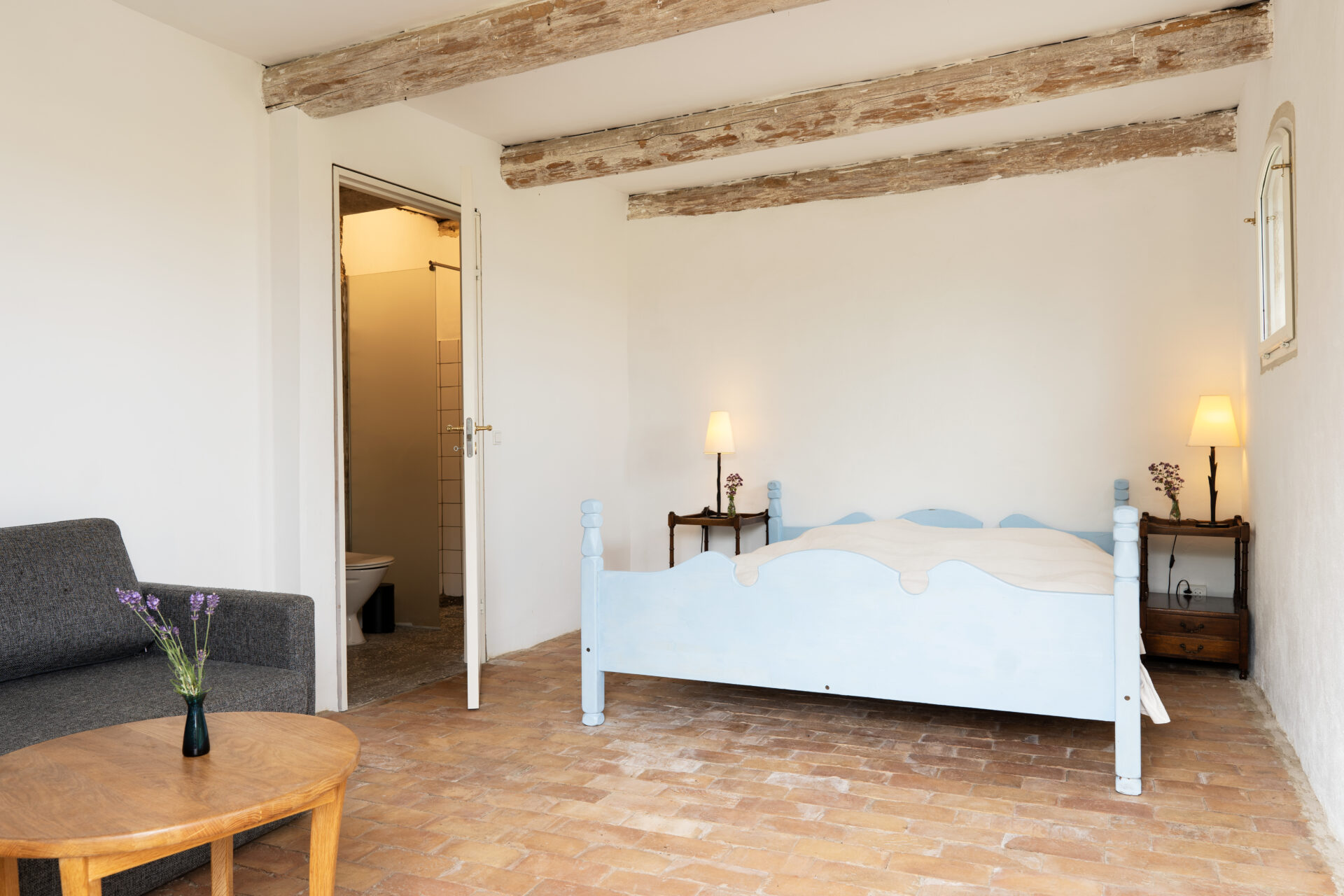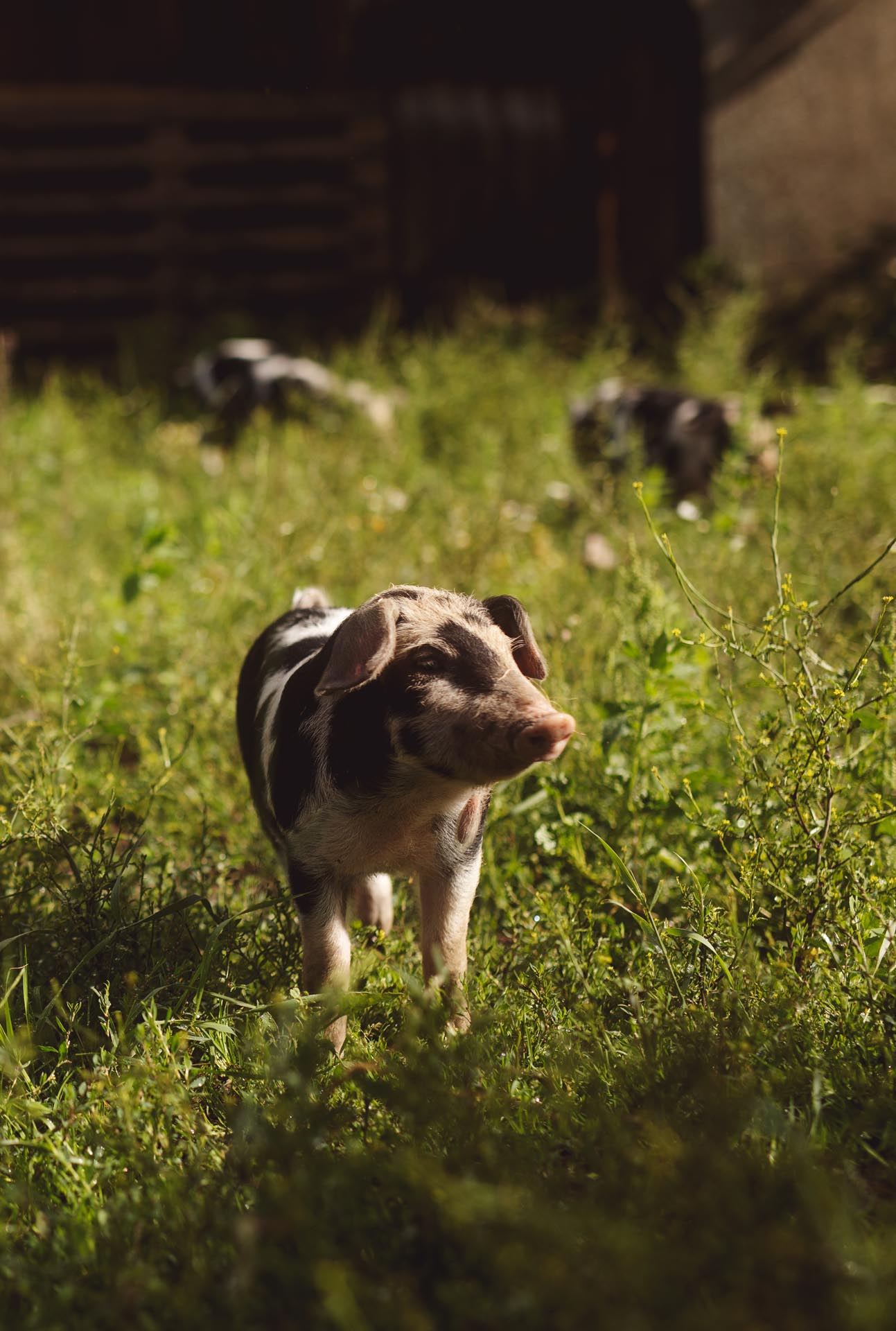 Get away from the bustling city life for the weekend. Watch the sunset over the fields, as you enjoy a delicious home-cooked meal in the dining hall. Arrive to welcome drinks Friday evening and take the weekend off to unwind.
Check-in from 16.00 Friday.
Two-course evening meal
Two nights' stay
Breakfast Saturday and Sunday
Bed linen and towels (note: if you bring your own, you'll get a discount)
Check-out Sunday before 11.00.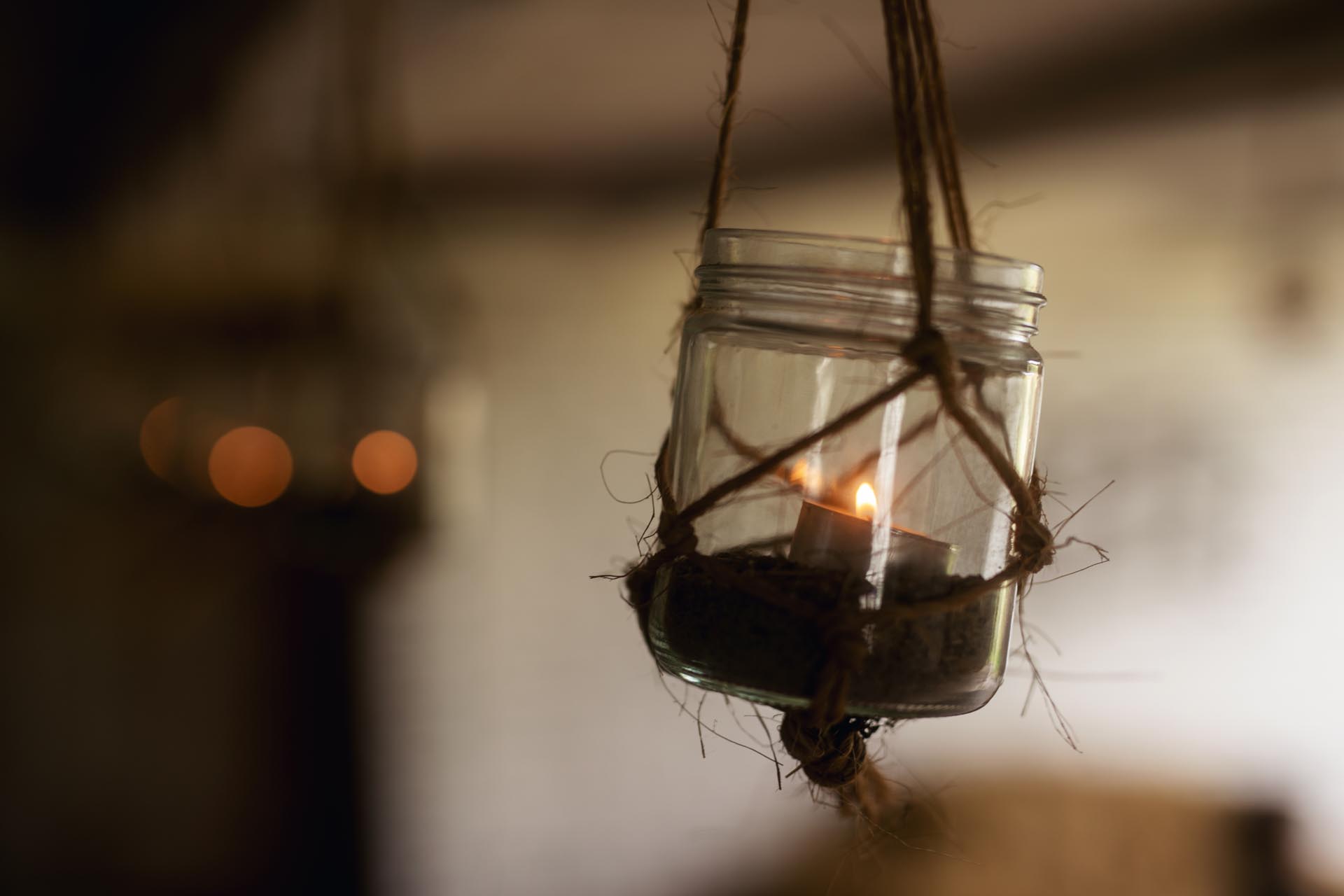 If you want to create a stay that suits your needs for your trip, just get in touch and we can create one together. Whether you want to celebrate with the whole family, book the perfect Christmas lunch, or need some peace and quiet for a work meeting, we can work together to make the perfect stay for your needs.
Get in touch and we can find a deal that suits you!